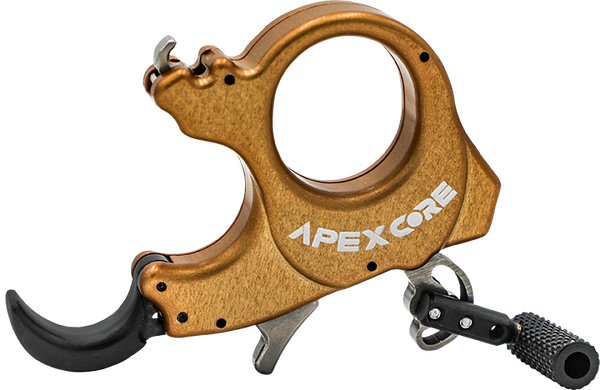 Please Note: The APEX CORE has an approximate 2-3 week lead time.

Up. Your. Game.
Full Radius, Closed Thumb Design for a Comfortable Feel & a Relaxed, Confident Shot.
With options to match even the most precise preferences, the ambidextrous Apex Core features a full radius, closed index finger position for repeatable drawing consistency on the lightweight aluminum tapered handle.
The proven Apex internal cocking mechanism ensures a smooth and ultra-crisp release for supreme accuracy.

Achieve customizable comfort by adjusting the size and position of the thumb barrel position or by adding a finger extension and tailoring the 50 degrees of angle adjustment to your preferences. Micro-adjust the closed hook's tension and travel to fine-tune your precise shot and Release With Confidence™.
Features:
Aluminum Ergonomic Tapered Handle
Full Radius, Closed Index Finger Design
Fully Tension And Travel Adjustable
Adjustable Thumb Barrel Position
Includes Additional/Interchangeable Thumb Barrels
3 or 4 Finger Extensions Included
Finger Extensions Feature 50 Degrees Of Angle Adjustment
Closed Hook Design
Smooth & Ultra Crisp Release For Supreme Accuracy
First time using a thumb release and this thing is great. Definitely has improved my accuracy
The best thumb release I've ever shot!
Excellent release. I don't expect anything other than excellence from Scott Archery!
Apex Core
Had the chance to use this release and I was blown away by the quality of this release! You definitely get what you pay for!