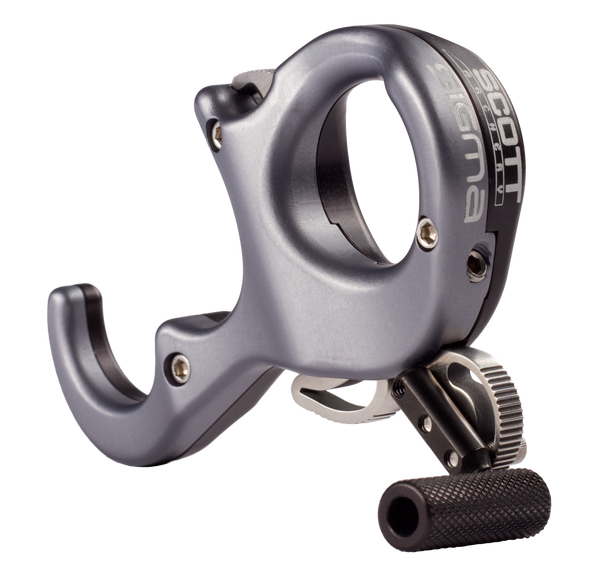 The Sigma offers a more comfortable feel with a new, more ergonomic handle. You can feel the difference at full draw, allowing you to be relaxed and confident. The Sigma puts your fingers in optimal performance positions – we call this "finger ergonomics." Ultimately, the proof is on the podium. 
The Sigma is the next iteration in Scott thumb button releases. Beginning with the Exxus and the Exxus Core, the Sigma takes the best of these design elements and presents an entirely new trigger mechanism. A more comfortable handle. And unparalleled reliability to the thumb button release archer.
Features:

Highly engineered for maximum accuracy
Ergonomic shape provides ultimate feel
Closed position full radius tapered handle for consistent hand position
Fully-adjustable trigger and travel adjustment
Machined 440 Stainless Steel internal components
Best on the market
Best archery release on the market, I have tried several different releases and continue to come back to the sigma
Perfect
Know matter how great Scott releases are there are those who just love to complain! As far as a click goes who needs it anyway on any brand! I have been in archery almost 60 years and I'm elated on how far technology has made a bowman's life a pleasure! None of my gun triggers have a click you aim apply pressure until it fires so why should a bow release be any different! When your focusing on a click instead of your target the shot suffers unless you have been doing it a hundred years and in my opinion! I believe those with target panic suffer more with the click as I have known a few who have until I convinced them to eliminate the click and they moved forward instead of waiting nervously for that con founded click! I shot a recurve for years and my fingers don't click unless a knuckle cracks drawing the bow! The hook is not the problem it's the lack of practice and technique as I have found through the years that is the real issue so after evaluating myself and blaming myself instead of Scott or whoever I have overcome my human error and become an X man!
Great feel, better if jaw was spring loaded
Sigma
Shoot finger releases for over 20yrs and made the switch to a thumb release. Wish I made the switch way sooner. More accurate better groups and better anchor point. Now to learn with a tension release. Thank you #ScottArchery
Sigma Rocks
I have been using the Sigma for 3 years and absolutely love it. So much that I purchased another one for when I travel.