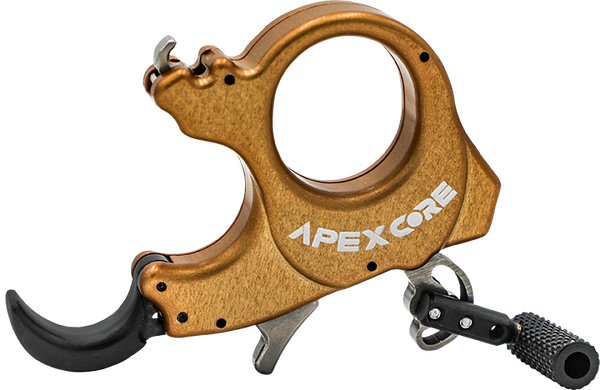 Please Note: The APEX CORE has an approximate 2-3 week lead time.

Up. Your. Game.
Full Radius, Closed Thumb Design for a Comfortable Feel & a Relaxed, Confident Shot.
With options to match even the most precise preferences, the ambidextrous Apex Core features a full radius, closed index finger position for repeatable drawing consistency on the lightweight aluminum tapered handle.
The proven Apex internal cocking mechanism ensures a smooth and ultra-crisp release for supreme accuracy.

Achieve customizable comfort by adjusting the size and position of the thumb barrel position or by adding a finger extension and tailoring the 50 degrees of angle adjustment to your preferences. Micro-adjust the closed hook's tension and travel to fine-tune your precise shot and Release With Confidence™.
Features:
Aluminum Ergonomic Tapered Handle
Full Radius, Closed Index Finger Design
Fully Tension And Travel Adjustable
Adjustable Thumb Barrel Position
Includes Additional/Interchangeable Thumb Barrels
3 or 4 Finger Extensions Included
Finger Extensions Feature 50 Degrees Of Angle Adjustment
Closed Hook Design
Smooth & Ultra Crisp Release For Supreme Accuracy
Apex Core
Had the chance to use this release and I was blown away by the quality of this release! You definitely get what you pay for!
Great Release!
Love this release very adjustable as far as the thumb barrel as well as the finger extensions. Just an all around great release that can adjust to any of your needs!
Scott apex core
Absolutely love this release purchased it a couple of days ago and fell it love with it after the first few shots, feels so crisp and comfortable even when the release is set a little light compared to others on the market
Nice job Scott!
Great new release
I was fortunate enough to try the new Apex core release at NFAA Indoor Nationals. This is a great release. Very crisp and very comfortable in the hand!
D-loop du loop
I just got this within last week. I really like the different Travel & Tension options. The adjustable finger grip is great, I have had other fixed finger that is uncomfortable on my finger. I would give this release 5 stars but the D loop grip is kind of difficult, maybe because of my big fingers but it doesn't seem to close easily. I find myself going to my previous release because of this. But I'm not giving up on it, very crisp and clean shot release. Scott has upped its target release options. Have always been and will continue to use Scott Releases.