HOW TO CHOOSE THE RIGHT SCOTT™ RELEASE FOR YOU!
Choosing the right release is part personal preference, part desired function. Regardless of which style or features you choose you can be assured that your SCOTT Release is the best built release you can buy.
Tolerances are tighter, technologies are tested and finishes are flawless. In the end, this means that when it matters most, your release will perform as promised. Here is a guide for choosing the right SCOTT Release for you!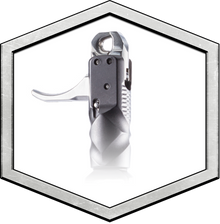 HYPERJAW
Welcome to the next level of archery release aids. Patented HyperJaw™ technology from Scott features independent operating jaws. This asymmetrical jaw design delivers unmatched opening response. The result is a clean release that eliminates torque. Every time. The plunger-style activator for the jaws ensures consistent jaw opening. And, in true Scott form, the trigger travel and tension offer more range to fit your unique form and style.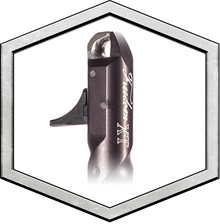 SINGLE CALIPER
Exclusively from Scott, the single caliper head is a robust and reliable release. With few moving parts, the rugged design of the single caliper performs in the worst weather. The at side of the head guides the string loop through full release. The compact head delivers crisp activation shot after shot. For those that prefer, Scott single caliper releases provide generally lighter trigger settings.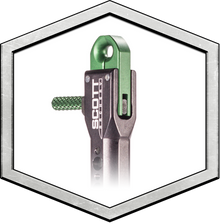 DUAL CALIPER
The dual caliper design delivers symmetrical distribution of friction. This means that the loop is released cleaner and with less torque. The dual caliper design features a larger head, giving more to wrap your fingers around. A wide range of trigger adjustments offer increased options to customize the release for the individual archer.
THUMB BUTTON
Whether shooting paper, 3D, or bow hunting, some archers prefer hand held releases. These releases depend on the archer's back muscles, leading to consistency in anchoring. Scott has long been a leader in hand held releases. Again in 2017, Scott leads the way in hand held releases with a full line of thumb button releases. The Sigma is a premium thumb button release, now available in a wide range of colors.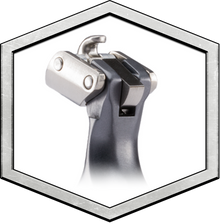 BACK TENSION
Back tension releases from Scott use the ideal pivot point for release. Put simply, this means you shoot better with consistent results. The smooth design of a Scott back tension means there's no at spots. Nothing to cause finger binding. With your fingers free to get in the right position, you'll be comfortable shot after shot.
CONNECTOR/ADJUSTMENT SYSTEM
Whether you prefer the traditional feel of a solid swivel connector or the adjustability and torque-free performance of a nylon strap, SCOTT gives you what you want!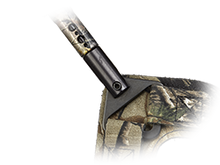 SOLID SWIVEL
Solid
Gives you something to grab hold of
5 or 9-hole adjustability
Swivelling head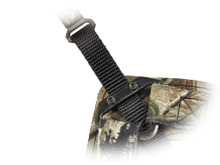 NYLON STRAP
Patented infinite strap length adjustability
No torque
Tuck-away design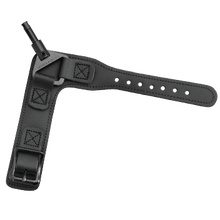 BUCKLE
Quiet
Consistent (same every time)