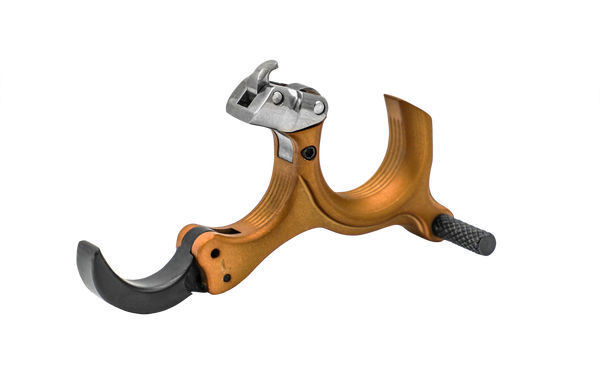 Please Note: The Select has an approximate 2-3 week lead time.
Customizable Hinge Design for a Controlled Feel that's JUST RIGHT.
Refined through over 40 years of release innovation, the Scott Select offers a feel all its own while the internal moons & numerous adjustment options allows archers the ability to select & execute the perfect shot.
This premium handheld features Scott's signature craftsmanship and crisp yet smooth, performance. Available in either Medium or Large, the ergonomic handle is designed to add extra grip with grooves machined into the lightweight aluminum. With 50 degrees of adjustment, you can pinpoint the exact fit and feel with 3 or 4 finger extensions included.
Designed with Scott Archery's proven Internal Moon Locking Design, the Select makes finite adjustment possible with micro-adjustable travel and micro-adjustable click length for added control and comfort so that you can Release With Confidence™.
Features:
Micro Adjustable Click Length
Micro Adjustable Travel
Thumb Peg For Drawing Assistance
Available In Large Or Medium
Includes 3 Or 4 Finger Extensions Which Can Be Rotated 50 Degrees To Desired Location
Ergonomic, Lightweight Aluminum Handle Machined With Grooves For added grip
Internal Moon Locking Design
Amazing
This release is absolutely incredible! Fits perfect in your hand!
Great Release
Extremely surprised how well this release is designed.
Scott took the best and made it better.
The handle allows for fast or slow shooting.
The large is about the size of the medium Apex which allows to swap as needed and still have the same point of impact.
The adjustments are simple and secure unlike some that I have shot.
Yes, the release is light, I'm thinking they will introduce the brass or ss next year for those who like a heavy feel.
As I said, I use both the Apex and Select and have had no issues between the two.
Scott hit a homerun with this one.
So Sharp!
Awesome looking release. Love the color and feels great!
never used a back tension/hinge release before
Its very intuitive and I like it.